Hi, and thank you for taking a few minutes to view this site, my name is Ruby Rezac and you are visiting Countryview Rabbits. I am located in the Southeastern part of SD and have been raising and showing Holland Lops since 1989 and Netherland Dwarfs since 1995.
Line breeding has brought great consistency to my breeding program over the years. With excellent depth of body and width to balance and you have the winning combination for the show table.
BOS WINNER OF 2011 ARBA CONVENTION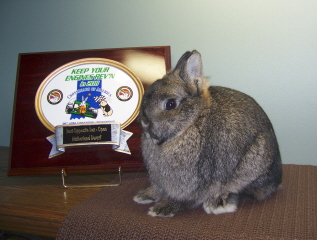 REZAC/STELZER BAR NONE EAR # BAR
The show year ended on a high note for us as we took BOS at the 2011 ARBA convention in Indianapolis. This little doe was a 5 month old jr and was only her 2nd time on the show table. Her ear number is BAR, name is Rezac/Stelzer Bar None.
JR. otter doe BES wins BOS 2007 ARBA CONVENTION
Rezac/Stelzer's Aiko
This is also home of the 2007 BOS doe at ARBA Conveniton her first time out of the barn and she was only 3 1/2 months old. I have to thank Kenny Nelson and Jason Coin for selling me the sire to BES.