CN'S JUDE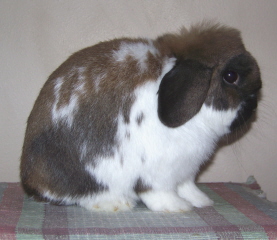 CN'S JUDE OUT OF Y & K'S BERNIE X Y & KS DALLAS
CN'S Jude has had a big impact on the crown and ear for my herd. He has a very nice head that balances out this rabbit.
REZACS' PEN displays a very short body type, along with a really well placed crown and a very open well shaped ear. My new thing that I am working to improve is the shape of the ear.

CN'S JUDE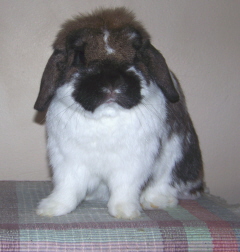 The front view really shows off the wrap around crown and ear.
I find the Holland's are a really great challenge as I look at what I need to improve. You can fix one problem only to have something else go wrong. But, I love the challenge of making this breed look better on the show table. The one thing that can seem to hold a Holland back from winning the BIS award is the fur and flesh condition. I prefer the really dense and shorter coats, they just seem to finish out better and from my many years of breeding seem to hold the coat longer. You will not usually find a long coated Holland in my herd as this is the one dominant feature of the Rezac Hollands. Along with a solid body as I won't keep an animal that is not solid and well fleshed.